Crisis Management at Erste Group Bank AG
The Erste Group Bank AG (Erste Group) is one of the largest banking groups in Central and Eastern Europe. In Austria it is represented by Erste Bank of the Austrian Sparkassen (savings bank). Together with the Austrian Sparkassen, this forms the Sparkassengruppe.
Erste Group Bank AG (first half of 2019):
16.5 million customers
300 employees
505 branch offices in 7 countries
a balance total of 243.7 billion Euros
ERSTE Group Bank has introduced the safeREACH system for the purpose of alerting and crisis management in order to be best prepared for all possible incidents.
The problem
Erste Group was faced with the challenge of introducing a suitable alerting and crisis communication system for the new location of its headquarters, Erste Campus in Vienna, with around 5,000 employees. This system is intended to be used in emergencies (e.g. evacuation of the site with 5,000 employees) to alert the relevant persons simply and quickly, distribute information, convene the crisis management team and, based on the feedback received, also take initial BCM measures.
The solution
Erste Bank has been using the safeREACH system since 2017 and has configured appropriate scenarios for all possible incidents, which can be activated quickly and easily in an emergency. The replies from the persons who have been alerted are displayed on a separate monitor in the security control center. Crisis managers have access to the replies on their safeREACH app. By means of the group chat function, all alarmed persons are always kept up to date and provided with relevant information.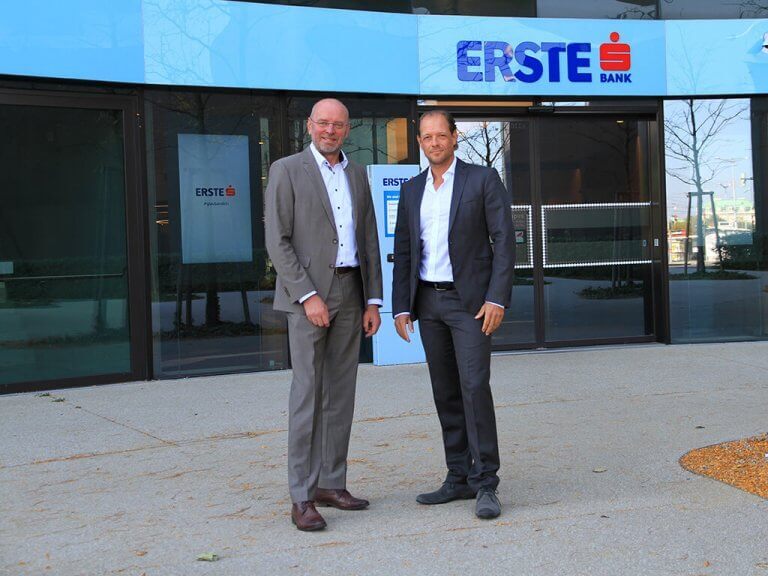 3 questions for Günter Prünner
Günter Prünner is responsible for BCM and crisis managament at Erste Group Bank AG. We have talked to him about safeREACH and crisis management.
What are your use cases and what in particular do you like about safeREACH?
The ERSTE bank has introduced the safeREACH system for the purpose of alerting and crisis management in order to be best prepared for all possible incidents. Up to now, we have carried out alarms purely manually on the basis of calls and e-mails, but this has not proved successful in practice.
In which area of application do you use safeREACH?
In 2017, we moved into our new headquarters in Vienna, where around 5,000 people are employed. In the course of the relocation, we asked ourselves how we could communicate emergencies or other incidents to our colleagues easily and quickly. For this reason we introduced safeREACH. In the event of an evacuation, with up to 5,000 people, we alert all 300 evacuation assistants and safety representatives and immediately provide them with the most important information.
Even if only a certain building has to be evacuated, safeREACH helps us enormously to communicate the relevant information quickly to all colleagues and thereby prevent false rumours. However, this information is not only sent to them, but also to the entire board of directors. In this way, all of the communication at the site is improved. In principle, we use safeREACH for all emergencies and for convening the crisis management team, and have created various scenarios in safeREACH for this purpose. Depending on the scenario, different groups are alerted. These can be the employees, the board, special teams or of course the crisis management team.
Which features do you consider especially helpful?
We especially like the reliable alerting and the immediate replies. When we alert the crisis team, we have to know quickly whether each of the alerted is available. The replies are displayed on the dashboard in the security centre. In this way, we can see the status of the replies at a glance and maintain an overview even when there are alarm updates. In addition, we also make intensive use of the group chat function to quickly distribute relevant information and documents to all alerted persons at the same time.
---
Find out how you too can use safeREACH for better crisis management in your organization
Let us convince you of the advantages of our professional product.