Health and care: Alerting staff members simply and reliably
safeREACH alerts exactly the right people. Exactly when it is necessary.
Simple triggering of an alarm
In case of an emergency, a simple alarm is necessary to act quickly. The operation of our alarm system is intuitive. An alarm can be triggered quickly.
Reach the right persons
You define the desired participants, we take care of the rest. In the event of an alarm, our system reaches exactly the right key people via app, SMS and email.
Checklists allow a coordinated approach
Do you want to send instructions for action immediately when an alarm is raised so that everyone knows what to do? This is possible with checklists. This ensures a structured procedure in the event of an emergency.
How safeREACH supports you
With scenarios, you can preventively map all possible incidents and react to them immediately.
Replies of the alertes personnel
Additional alerting by call, SMS and e-mail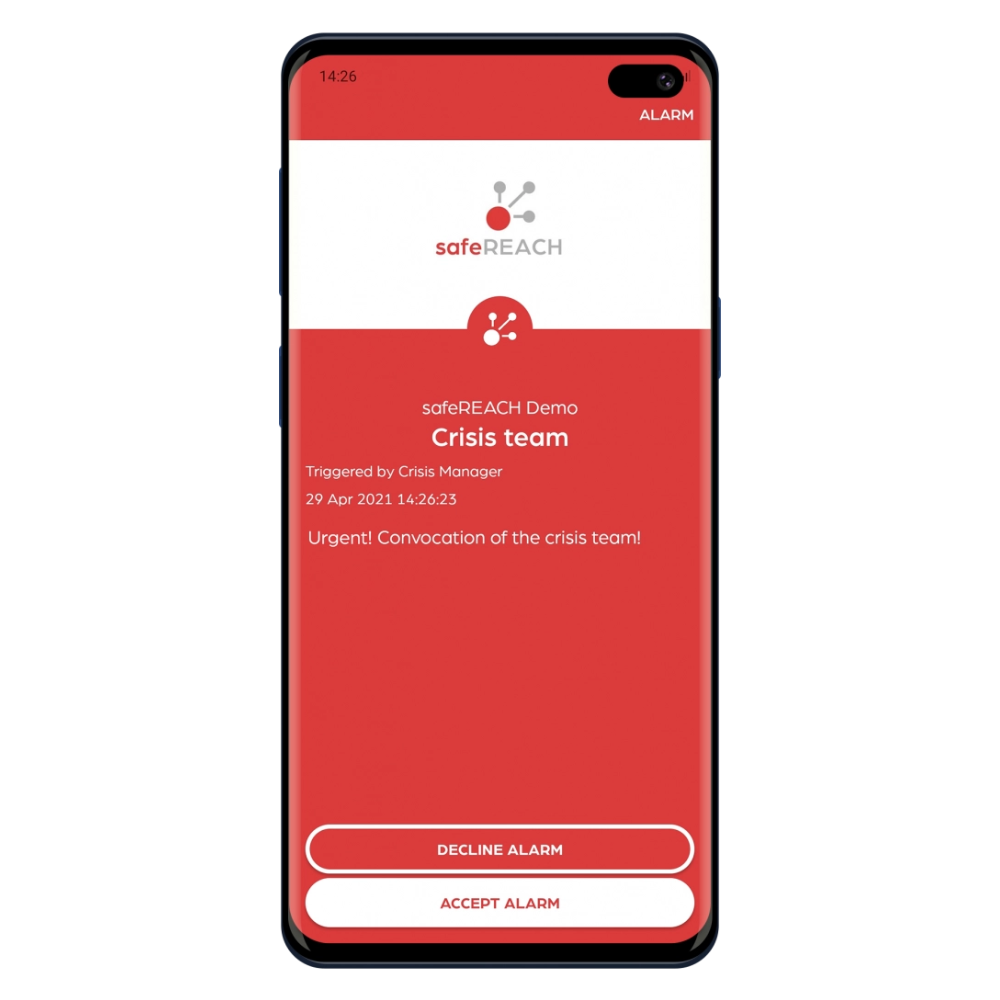 safeREACH alerts your personnel fast and reliably
No matter whether on-call duty or evacuation: the alarm system must work in the health sector. This is exactly where safeREACH supports you.
You can alert all the people you enter in our system. With escalation levels you define who receives the alarm.
With the reply function, you know immediately who has already responded to the alarm.
Events can be mapped with scenarios. You are thus immediately prepared for an emergency.
What does that mean for you?
You reach the right people with the right information in a convenient and efficient way.
Would you like to know how safeREACH works?
Test our system free of charge
Use our app and the cockpit before you buy.
How do you get your free test?
It's easy: Contact us now and start using our alarm system within 24 hours.
Frequently used solutions for your industry
Evacuation
Evacuate quickly and in a coordinated manner
On-call duty
Reach the right employees quickly and reliably
Crisis team
Reach key people across multiple channels
The 3 building blocks
---
Find out how you too can use safeREACH for better crisis management in your organization
Let us convince you of the advantages of our professional product.