On Call Management and Alerting
Reach the right people quickly & communicate instantly within the team.
Manual & automatic alerting
You can alert your colleagues manually or automatically. Automatic alerting is triggered via an interface.
Loud alert
If necessary, we trigger a loud alarm tone, even when the smartphone is in silent mode.
Replies in real time
You see immediately and in real time who has confirmed the alarm.
How on-call alerting works using safeREACH
Alerting the on-call duty manually or automatically
When an incident happens, a scenario is manually triggered via the safeREACH cockpit or the safeREACH app, setting off an alarm. Your entire alarm plan with stored participants, checklists, documents, etc. is linked to a scenario. The scenario can also be triggered automatically, for example via an interface.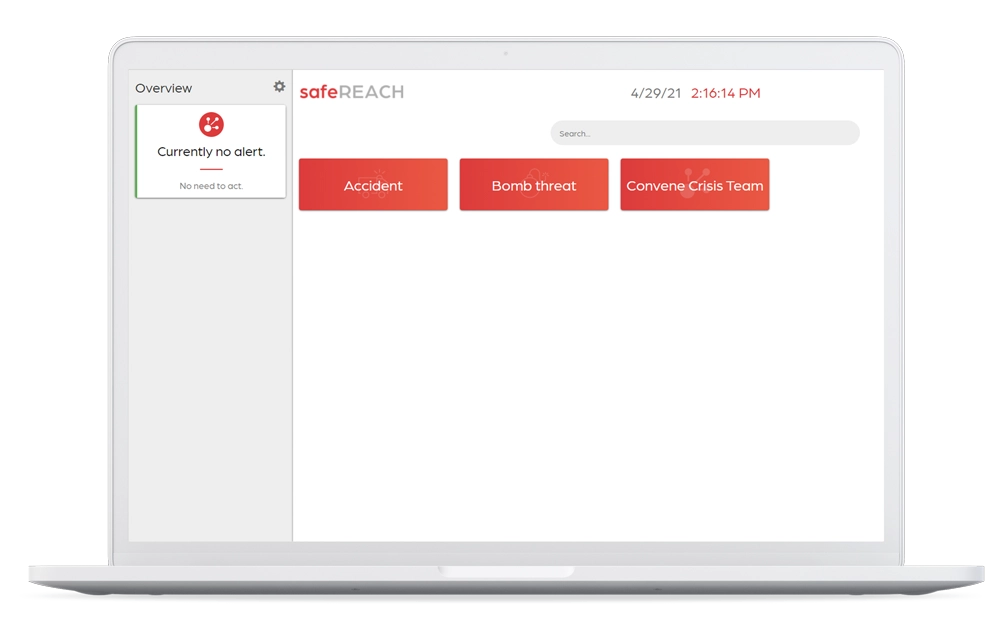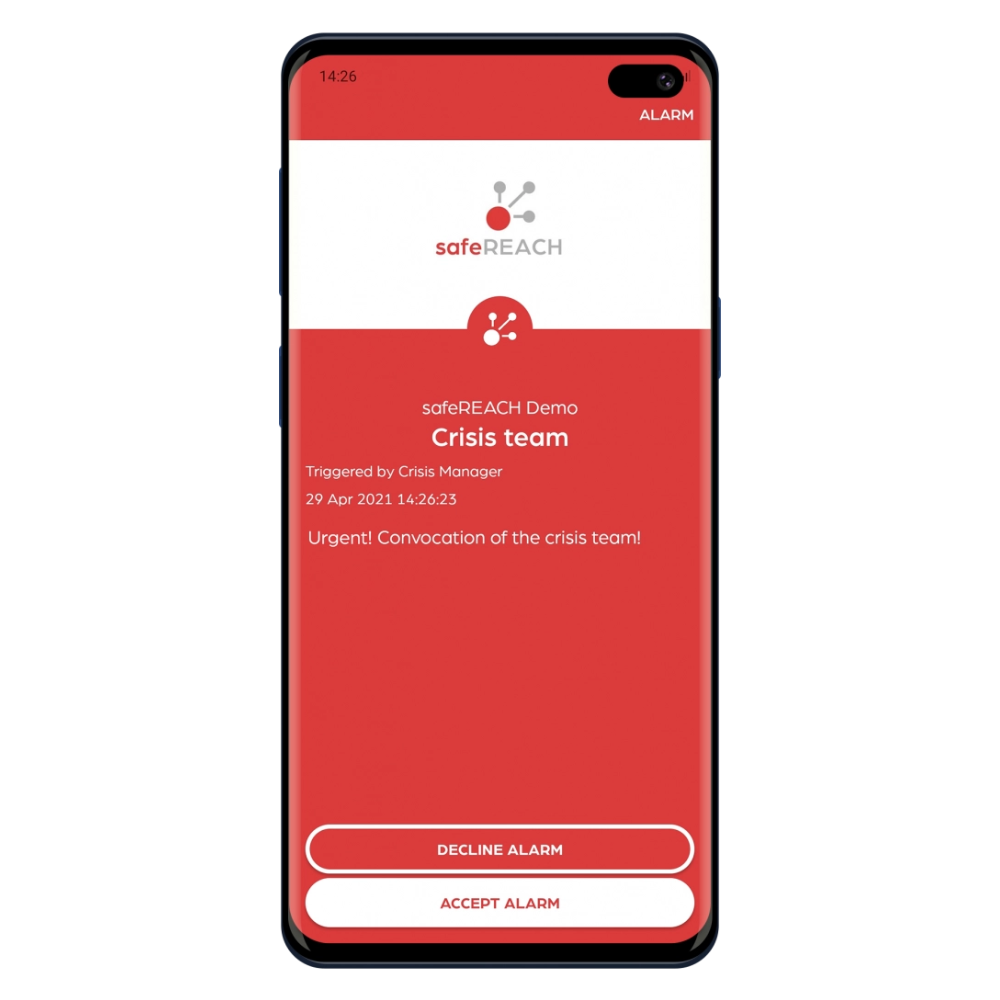 Receive the alarm
After the scenario has been triggered, all recipients receive the alarm on their smartphone. If the app is installed, an alarm is sent via the app. An alarm can also be sent by SMS, phone call or e-mail. The alarm reception can be confirmed immediately. Afterwards, it is possible to edit checklists and communicate within the team.
Further functions of the safeREACH system
Automatic escalation
A participant does not react to the alarm? Then safeREACH immediately alerts a deputy. More complex alarm processes can also be defined.
Connection to external systems
Connect external systems such as fire alarm systems, temperature sensors and switch contacts to safeREACH and trigger alarms via SMS and call.
Secure chat
Via the secure group chat, alarm participants can quickly and easily exchange information about changes in the situation during the operation.
Checklists and documents
You can create checklists in advance, which can be displayed and processed in the alarm app. You can also store documents with important instructions for action. This way, nothing is forgotten even under stress.
Maintenance-free operation
We take care of the secure and reliable operation of our solution. You do not need any additional hardware.
High compatibility
With our alarm app we support the smartphone operating systems iOS and Android. This results in a coverage of over 98% of all smartphones worldwide.
Find out how you too can use safeREACH for on-call alerting
---
On-call duty – A brief explanation
On-call duty – sometimes also called standby duty – is important for maintaining important services in daily life and affects many sectors, including healthcare, hospitals, fire brigades, emergency services, as well as IT and production departments. The purpose of an on-call service is to respond quickly and correctly to emergencies and disruptions, and to prevent a situation from escalating into a crisis.
Depending on requirements, on-call services are set up for specific times or around the clock (24/7). Sound planning and organisation of on-call services in advance is absolutely essential for reliable alerting as well as smooth operation in an emergency.
Types of on-call duty
There are different types of on-call duty. In addition to the actual on-call duty, there is also work readiness, journal duty and on-call duty. The main differences are where the employee is during the on-call time, when the on-call time is performed and how the on-call time is organised.
In the case of standby duty, the employee stands ready to intervene at the workplace during regular working hours. In the case of actual on-call duty or journal duty, the employee must be at a place designated by the employee outside regular working hours. In the so-called journal service of many offices and companies, this place is set up at the place of work.
On-call duty also requires the employee to be available at all times, but the employee can determine his/her own whereabouts. In all cases, employees are alerted when necessary. Alarm options include telephone, SMS, pager or a professional solution such as the safeREACH solution with alarm app.
Alerting for standby services
The very word "on-call service" implies constant availability of staff: faults must be remedied as quickly as possible and emergencies must be responded to. For this purpose, the participants of the on-call service must be alerted safely and reliably.
This is exactly what safeREACH does with its various alerting options. Depending on the scenario, the participants are alerted via the alarm app and, if necessary, also via SMS, phone call and e-mail. The alarm participant has the option of immediately giving a reply that he or she has received the alarm and is available. The reply helps to react optimally to the emergency.
Implementation of the organisation/alerting for on-call services
Trigger alarm – receive alarm – follow predefined scenarios and defuse the emergency or eliminate the malfunction! safeREACH can do just that: In addition to safe alerting, scenarios can be defined with checklists, deputy rules and other processes.
This ensures an optimal response of the emergency forces in case of an emergency or crisis. Human and financial damage can thus be reduced to a minimum or even prevented altogether. At the same time, the operation of safeREACH is extremely simple. As the solution is operated in the cloud, no separate server installation and on-site maintenance is necessary.
Find out how you too can use safeREACH for better crisis management in your organization
Let us convince you of the advantages of our professional product.