Automate alerting processes and manage crises safely.
As an energy supplier, you get a maintenance-free system that allows you to react more quickly to incidents.
Maintenance-free System
Always stay in control: Our system works independently of your infrastructure. This way emergency response is guaranteed at all times.
Targeted alerting of key persons
Digitally map your predefined responsibilities and key persons. Then alert all participants with one click.
Automatic documentation
At the end of an alarm, you receive a clear presentation of all events within our system. This allows you to start the follow-up work in a targeted manner.
How safeREACH supports you
Map your alarm plans digitally
Receive an automated end report after the end of the alarm
Conduct emergency drills quickly and easily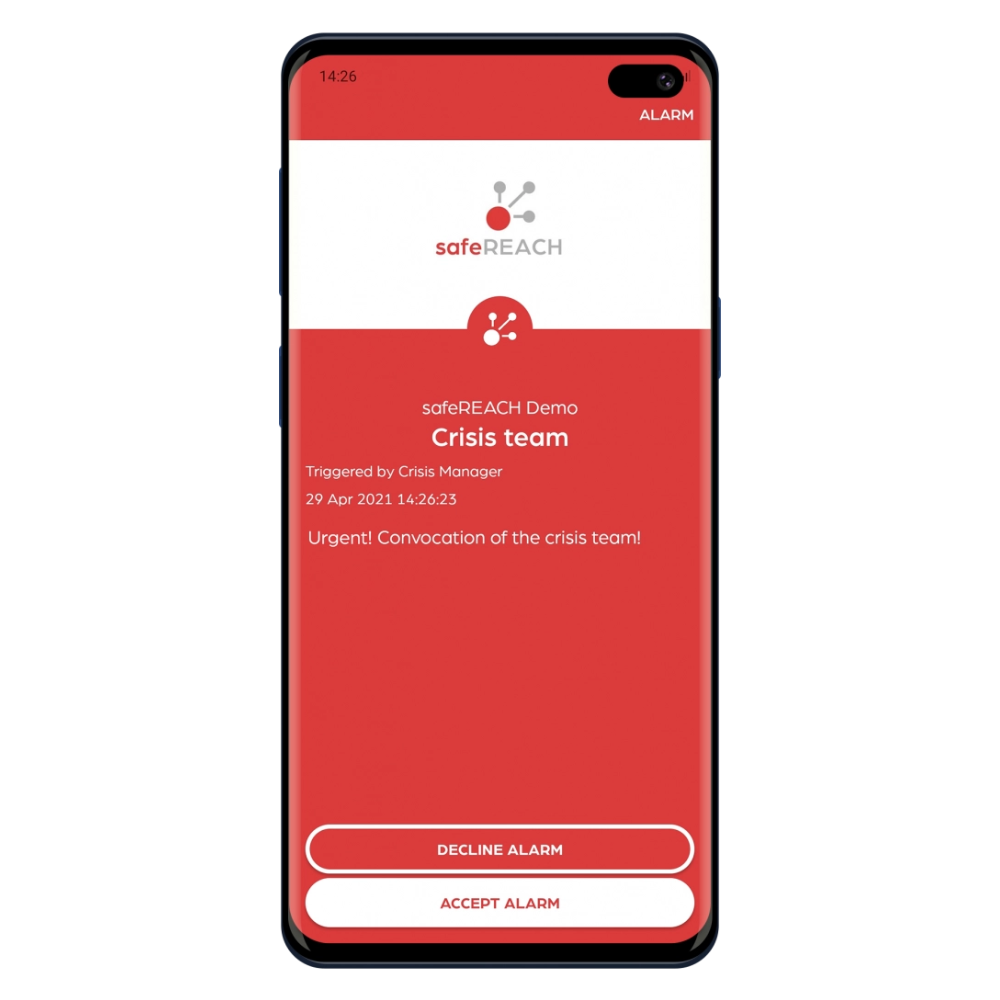 Be prepared for crises with safeREACH
Crises and emergencies happen suddenly.
As a consequence reaction time is reduced dramatically.
In practice, this leads to stress, mistakes and, in the worst case, lasting damage to your business.
This is precisely why it is essential to take preventive measures. This includes clearly defined responsibilities, procedures and processes, as well as guidelines, checklists and the right digital tools to support the crisis teams.
It is precisely these elements that we map with safeREACH:
Enter all key persons into our system to quickly and reliably alert exactly the right people
Make your personal procedures directly available to all participants in the event of an alarm, so that everyone knows what to do
Create checklists so that participants can react to the incident correctly
Keep an overview at all times: In our web-based cockpit you can immediately see replies, group messages, determine who is already going through the checklist and what is currently happening on site.
The 3 building blocks
Areas of use
Emergencies
Alert in case of emergencies simultaneously and in real time
Environmental indicents
Safely mastering external events such as natural disasters
IT failure
React quickly to IT failures that threaten the existence of the company
Find out how you too can use safeREACH for better crisis management in your organization
Let us convince you of the advantages of our professional product.