Industry & Manufacturing: Always stay in control
Respond quickly to production disruptions, accidents and fire alarms and restore operational readiness immediately.
Avoid downtimes
Production downtimes cause high costs. With safeREACH you monitor all critical components. Alarms are triggered immediately if a malfunction occurs. You can integrate safeREACH flexibly via commonly used interfaces.
React quickly to accidents
Despite high standards in occupational safety, accidents involving vehicles and accidents during the repair and cleaning of machines occasionally occur. With freely configurable scenarios, you can alert company first aiders and key personnel in real time.
Alerting via call, SMS, app and email
With alerting across multiple channels, you ensure that everyone is reached. In addition, the intuitive reply functionality gives an overview of who received the alarm and has responded to it.
What you can do with safeREACH
Alert internal and external staff, key personnel and consultants with just one click, without the need for telephone lists.
Communicate immediately with all key persons via the chat function
Connect safeREACH to other systems via an interface
Reliably alert all persons – even in silent mode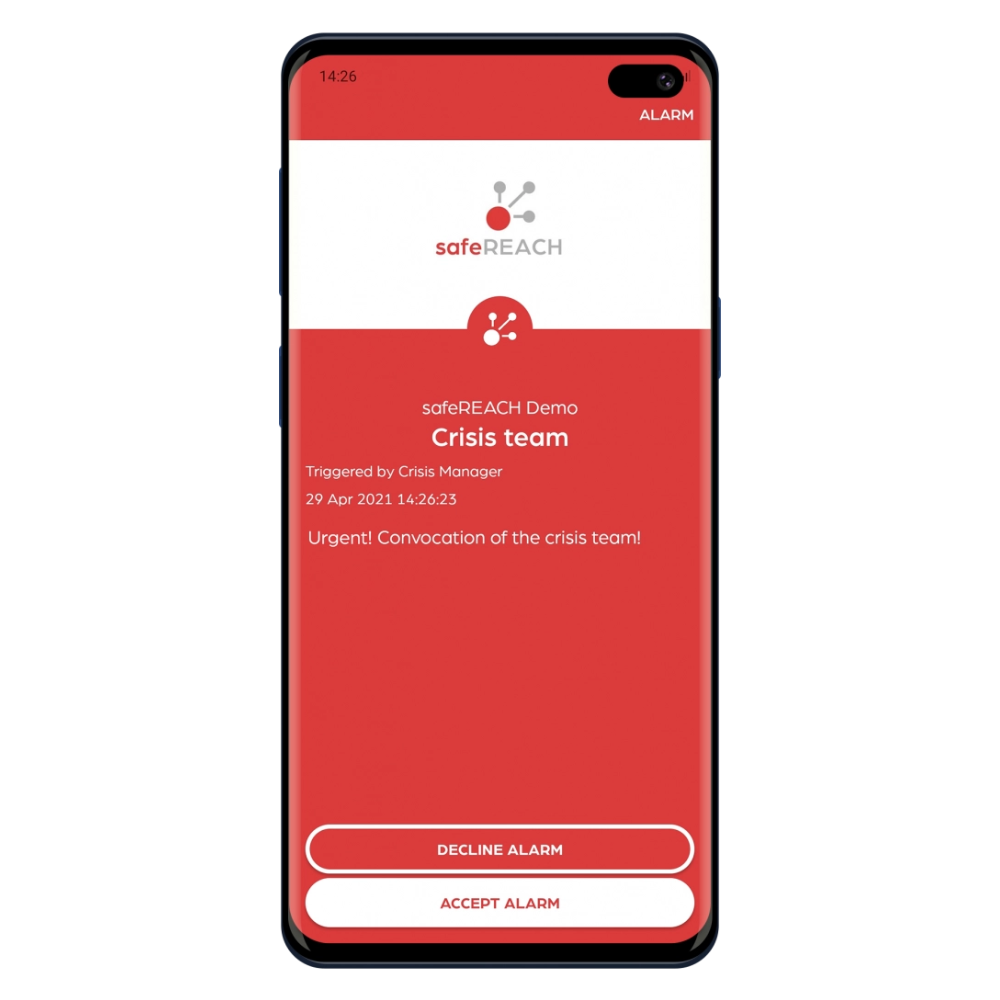 Why safeREACH?
PORR AG (ARGE H51) uses safeREACH as a crisis management tool during construction of the world's longest underground rail link.
The 3 building blocks
Customised solutions for industry & production
Accident
Quickly inform all key personnel in the event of an accident
Fire brigade
In case of fire alert plant security
On-call duty
Reach employees quickly and reliably
---
When alerting has to happen fast – safeREACH
Making the unplanned plannable – that is the credo of process analysis.
But in practice, disruptions are still dealt with in an uncoordinated manner. This leads to long downtimes that cause high costs. In the case of accidents, fires and other incidents, it is also necessary to react quickly in order not to lose time when coordinating measures.
According to a survey from 2017, companies focus on a high level of responsiveness in the event of disruptions. This responsiveness is only guaranteed with the right tools. In the case of occupational accidents, immediate alerting is a guarantee for ensuring a short intervention time.
safeREACH supports you in monitoring and alerting to ensure a rapid response to any event and a quicker return to normal operations:
Alert staff – on-site and on-call
Quickly convene a crisis team and begin coordination immediately
Plant fire brigade, first responders or external consultants
Define key persons and inform them reliably
With regard to the Seveso III Directive, safeREACH supports you in implementing the internal alarm plan and the hazard prevention plan.
Find out how you too can use safeREACH for better crisis management in your organization
Let us convince you of the advantages of our professional product.